How to participate
To participate you need to register (step 1/2) and potentially, to submit an abstract (step 2/2).
Deadline: January 20
1/2: Registration (mandatory)
Participation is free, but registration is mandatory. Please fill this form.
==Note== the form is filled in to steps:
Fill your name and email address
You'll receive an email with a link for finishing the registration.
The number of attendees is limited. Avoid late registrations.
2/2: Submit an abstract
If you wish to present a talk, submit your abstract via EasyChair
As previously, there is no formal review, and the organizers reserve the right to select talks from the submissions to obtain a diverse and interesting program.
Slides
Link to all provided slides is here
Program
Participants
Mailing List
We use the dsb2020@inria.fr mailing list for discussions and the diffusion of fresh informations. Most of you are already registered.
Pratical
When
February 3 (Monday): arrival and evening welcome reception (no talks)
February 4 (Tuesday): first workshop day; dinner
February 5 (Wednesday): second workshop day
Where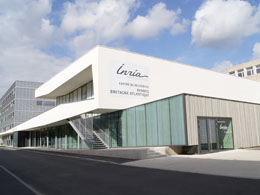 The workshop will take place at Inria Center - Rennes - France
How to get there?
From the SNCF railway station

By public transport

Take the Metro at Gares (Rennes) station in the direction of J.F. Kennedy (Rennes), get off at République station.
At République station, take either one of the follwing buses and get off at Tournebride.

the bus line towards ZA Saint Sulpice
the bus line towards Cesson-Sévigné/Chantepie
the bus line towards Beaulieu Atalante

By taxi: The average price of the race of around 15 € during the day.

From Rennes Saint-Jacques airport
Join Inria from the Tournebride stop:
We advice you to book an hotel in the city center. The campus is accessible by bus in about fifteen minutes from the city centre
Hotels
Here is a list of hotels in the city centre of Rennes from where it is easy to take the bus to reach the Inria center:
Supports
This meeting is supported by
Organizers
Lolita Lecompte
Marie Le Roïc
Téo Lemane
Pierre Peterlongo